This week in the state of Ohio, the Republican-led House of Representatives approved a bill that would allow Ohioans with concealed-carry permits to carry guns into bars, restaurants, and open-air arenas, such as a sports stadium. One of the supporters of the legislation, Republican Representative Danny Bubp, said it was necessary for the bill to be passed, so law abiding citizens would be on equal footing with criminals. Bubp added, "you can't always count on law enforcement to be there to protect you. You have to be able to protect yourself."
Courtesy thinkprogress
It should be known that the bill also stipulates that persons carrying the weapons are not allowed to drink, and that the owners of the establishment are allowed to post signs disallowing guns at their particular business. The first question that popped into my head was 'is the guns are concealed, how would a bar owner/bartender know if the person is carrying a gun when drinking?'
Thinkprogress.org reported that the Columbus City Council yesterday unanimously passed a resolution calling for Ohio Governor John Kasich (R) to veto the bill. Virginia, Georgia, Arizona, and Tennessee already allow patrons to bring guns into places serving alcohol. In a poll conducted by the Mayors Against Illegal Guns, a bipartisan group, it was found that 80% of Ohioans and even 77% of gun owners oppose the proposal to allow guns and alcohol to mix.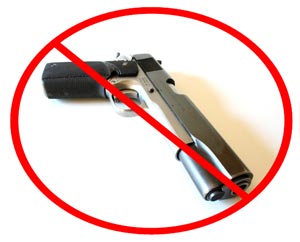 Courtesy Originalprop.com